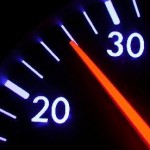 While I was on my vacation, they installed a new IBM i model M25 at work for development.
It's quite nice … and significantly faster than the previous 820 we had.
It reminds me of my last job … when we upgraded from a D35 to one of the new "RISC" systems (they had just come out). After the upgrade was complete (long and very painful process, due to a vendor lying to us), I was getting panicked reports from users about their important jobs ending abnormally.
When we were running the D35, reports and various processes took a very long time to complete. If the user received a 'Job 000123/USERID/JOBNAME completed normally on 03/02/09 at 09:49:22.' message too soon after they submitted the job, they knew it had failed.
Well, because the new system was so much faster than the old system AND the problems we had during the upgrade, they were assuming that their jobs had failed.
I asked them to check the output of their jobs to see if everything looked right. Oddly enough, everything did look fine. I took 2 or 3 similar calls from each department before the word got out that the system was going to perform a lot better than it used to.
None the less, one VP insisted that I investigate why things were finishing so much faster than they used to. It took about 20 minutes for my boss and I to explain to him that this is exactly what we paid all that money to IBM for.